Welcome to My Website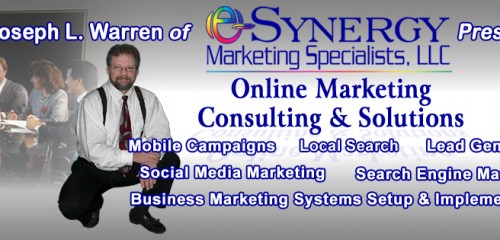 Hello Business Owner, Quick Question... Did you noticed what Actions you took to land on my Website?   Chances are you came from Google, Bing or Yahoo... after doing a search for "Marketing" in your local-area.  Ie, "Marketing services in Walterboro", or Beaufort, or Summerville, or even Charleston etc, or you landed here from a Link/URL I strategically placed on a Social-Network like Facebook or LinkedIn or even Skype,,, or one of my favorites, my Google+Page.  " Why is this important? … Read Why..
Hi My name is Joseph L Warren... I'm the Owner of e-Synergy Marketing Specialists, LLC. My friends and Clients simply call me....     Joseph.  Feel welcome to do the same. My wife Janet (My BFF) and I started the business back in 2000, as Gifts & Collectibles Merchandise … Click Now, To Learn More About Me..
Here is what I bring to the Table as a potential Marketing Consultant for You! Since early 2002, I dove head first into learning all I could regarding Marketing strategies and Techniques that offline businesses (Brick and Mortar owner) could … Read More
The first step to discussing a Marketing Plan is to schedule an Appointment with me.  Scheduling an Appointment is easy with my Appt-Scheduling service. This page will walk you through how to schedule an appointment with me and what my consulting … Read More...